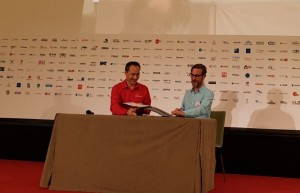 Philip Wogart, Executive Director DACH, Co-Chair Location Based Entertainment Committee of the VR/AR Association (VRARA) and Carlos Lee, Director General of EPIC (European Photonics Industry Consortium)
signed a Memorandum of Understanding on 28 August 2019. The signature took place at EPIC's highest-level conference – EPIC World Photonics Technology Summit 2019 28 August 2019, Berlin, Germany – VR/AR Association (VRARA) and EPIC are leading international organizations that are working tirelessly towards the development of virtual/augmented reality and photonics industries, respectively. They are mutually motivated in cooperative activities involving the technological and commercial advancement in the area of photonics. Both organizations help to develop
industry standards.
The partnership will encourage direct contact and cooperation between the
consortiums and its members, assist future cooperation including participation at events and promoting the VR and AR ecosystem, exchange of information and contacts, as well as advisory mandates with an
aim of supporting the development of an efficient and sustainable industry.
The signature of the MoU took place in conjunction with the EPIC World Photonics Technology Summit inBerlin, Germany, in the presence of 150+ CEOs/CTOs and decision makers from worldwide leading photonics companies. The signing is the culmination of 9 months collaboration starting already last year at the EPIC Meeting on AR/VR at SONY in Stuttgart and with Director General Carlos Lee's keynote at the
Executive Dinner at Mobile World Congress hosted by the Barcelona Chapter of VRARA. The cooperation continues to grow this year onto the international stage with the VR/AR Associaiton's invite for EPIC to participate in their annual Global Summit in November in Vancouver.
VR/AR Association (VRARA) has over 50 chapters around the world and a community of over 4,200 companies, developers, agencies, universities etc interested in the fields of AR/VR technologies. This complements very well the interests of most of the 500 members of the European Photonics Industry
Consortium (EPIC), that encompass the entire value chain from photonics fields such as lighting, photovoltaic, photonics integrated circuits, optical components, lasers, sensors, imaging, displays, optic fiber and all other photonics related technologies.