Going through the comments in last week's poll we get the feeling that Apple's image as an innovator has slipped away. The response to the new iPhone 11 trio is strongly negative and that seems to be a combination of lacking innovation, high prices and features that may not be as useful in real life as they sound on a presentation.
To be fair, Apple didn't raise the prices, in fact it lowered the price of the vanilla model. However, the iPhones remain some of the most expensive smartphones around and the 64GB of storage and 4GB of RAM are no match for the competition, which is keeping prices the same while raising the base storage and RAM.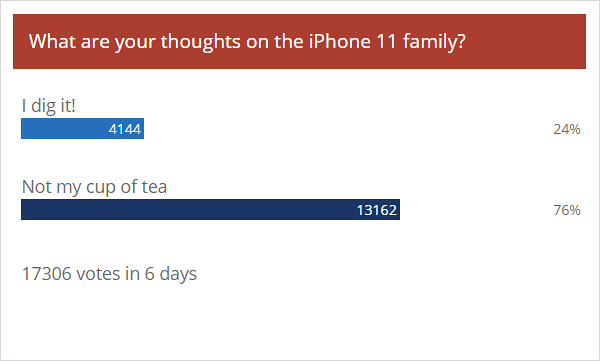 The iPhone 11 Pro models come with fast chargers in the box, which does bump up the value for money rating a bit. The vanilla 11 does not, however. At least you finally get a USB-C to Lightning cable in the box, so you don't need a separate cable to connect to you MacBook.
But that's just Apple playing catch up – just like with the ultra wide camera. While the iPhone 7 Plus was among the first phones with a telephoto camera, the ultra wide-angle has become standard on even mid-range Androids these days.
Sure, Apple's thing has always been product quality instead of spec superiority, but Night mode has been a major improvement in phone photo quality and Apple is only now launching its version.
Also, Apple was among the first to introduce a 120Hz screen on a portable (with the iPad Pro in 2017), but the iPhones are still at 60Hz. There are already several Androids running their screens at 90Hz and we expect many more to adopt this feature before September next year (when Apple will release its next-gen phones).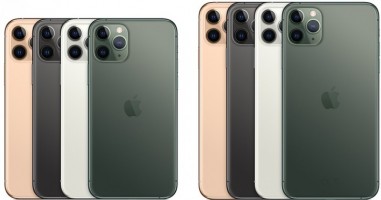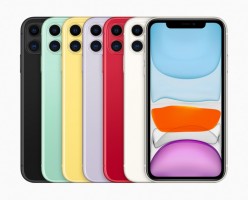 iPhone 11 Pro and iPhone 11 Pro Max • iPhone 11
Anyway, some in the comments lamented the lack of reverse wireless charging, no 5G option, the camera sensors which are still at 12MP, the 720p-class display on the iPhone 11 and so on. Meanwhile, the utility of the 4m water resistance was called into question – how many will actually test this in real life?
Also, there were no mentions of the Apple Arcade and TV+, which might not bode well for Apple's desire to transition its revenue stream away from iPhones (which have entered a period of decline) and towards services.
Long story short, Apple's image of an innovator has faded. In a few months we'll see how that has affected the company's bottom line.