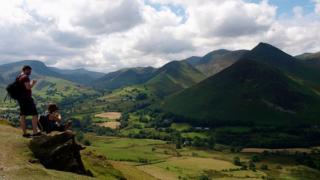 The UK's four main mobile phone companies and the government have set out a £1bn plan to banish so-called "not-spots", areas of poor network coverage in rural areas.
The deal – which includes EE, O2, Three and Vodafone – aims to get 4G coverage to 95% of the UK by 2025.
The government is looking to match the contribution from business, but says it is not yet a "done deal".
The deal is expected to be finalised early next year.
Currently one third of the UK has patchy or non-existent mobile phone coverage. Under the proposals being put forward, an additional 280,000 homes and businesses and 16,000km of roads will have coverage.
The four main mobile networks plan to contribute a total of £530m for the Shared Rural Network, with the government potentially supporting it with another £500m once the deal is finalised.
The plan comes after years of negotiation between the government and the mobile operators over how to improve network coverage. The government had threatened to force the mobile firms to allow customers to roam onto each other's networks in not-spots, a move the companies said would deter new investment.
Digital Secretary Nicky Morgan said: "Brokering an agreement for mast sharing between networks alongside new investment in mobile infrastructure will mean people get good 4G signal no matter where they are or which provider they're with.
"But it is not yet a done deal and I want to see industry move quickly so we can reach a final agreement early next year."
'Unleash investment'
Vodafone's chief technology officer, Scott Petty, told the BBC the plan has been 12 months in the making: "We saw an opportunity to work together as an industry to close the digital divide and solve the not-spot problem we have across the UK."
While he would not say how the £530m investment would be divided between the four mobile phone operators, he said overall it would reduce spending on capital infrastructure and increase competition.
"As an industry we really believe this is the most effective way to get the UK from the bottom end of the coverage tables in Europe to the top end," he said.
Mark Bridgeman of the Country Land and Business Association said the news was is a big step forwards.
"We have been hugely frustrated at the lack of progress in improving mobile reception to date," he said.
"This announcement will be welcomed by everyone who lives or works in the countryside."
Felicity Burch, director of digital and innovation at business lobby group the CBI, said the proposal would "unleash investment and boost productivity".
"This is another crucial step in making the UK match-fit for the digital revolution."
---
Do you live in a rural 'not-spot'? You can share your experience by emailing haveyoursay@bbc.co.uk
Please include a contact number if you are willing to speak to a BBC journalist. You can also contact us in the following ways: