There are a few different ways to achieve this goal. The most straightforward, of course, is to just replace the old dumb blinds with new smart blinds, where the wiring is all integrated and the motor is in the shaft.
After you get the quote for doing that, followed by the doctor's bill for treating your heart attack, you realise that it isn't actually a good option unless you're renovating or need to replace the blinds anyway.
Beyond that there aren't many local options to sell you a ready-made device to get the job done, but online retailer Oz Smart Things does sell two different small motors you can attach to the chain that drives your blinds.
The Oz Smart Blinds branded option is the more affordable at $170. If you buy a separate hub you can set schedules or control it via voice using Amazon Alexa or Google Assistant. Or you can just press the button on the unit or included remote.
Unfortunately my blinds are too heavy for this unit, despite being in the recommended size range. So I went and tested the unit on the blinds in my mother's apartment, and that's how I learned that it's not compatible with a metal chain. The turn is too tight and the motor will bend and snap the chain. I am now banned from testing things at my mother's apartment.
However, this story has a happy ending. The other motor, the Soma Smart Blinds Shades ( $230) has enough grunt to open and close my blinds. The unit is small and surprisingly quiet. It manages to be quiet because the blinds move at a glacial pace, but speed is unlikely to be a priority.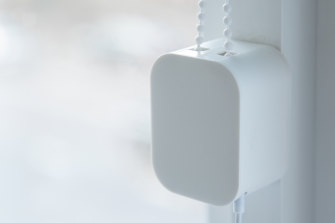 The unit's battery claims to last up to three months, and doesn't take long to recharge, or you can use it plugged either into the wall or a small solar panel which sticks to your window. The solar panel sounds nice in theory, but does block more of the window than I'd like.
It helps if you can install it on a wall with a stud, because the act of opening the blinds requires some tension, particularly if your blinds are inconveniently heavy. But using multiple 3M adhesive strips has so far been reasonably effective on the metal uprights between each of my windows.
You need to buy the separate Soma Connect for $130 if you want to connect your blinds to your network and control them with Siri, Google, Alexa or other apps. If you don't, the only way to control them is through Soma's app, so if you can't find your phone you can't move the blinds. Although the app knows what the temperature is outside, you can't set the blinds to close automatically at, say, 25 degrees, or sunrise. You can only set it by time.
There are definitely some kinks to work out when it comes to retrofitting smart blinds, but if you don't mind a lack of buttons, the Soma is your best local choice.
Alice is a freelance journalist, producer and presenter.
Most Viewed in Technology
Loading