(Above) A work-from-home space is portrayed in this model apartment at Lake Park Crescent in Chicago. (Click on image to view larger version.)
With the coronavirus forcing millions of people to shelter at home and work from their residences, experts say the private home office is rising in stature like never before.
26-Apr-20 – A decade or two ago, architects and home builders were wringing their hands and wondering if the formal dining room and traditional, little-used living room were endangered species in modern single-family home floor plans.
More and more American families were choosing to barbeque, dine casually, and socialize around an island in an expanded, open concept family room/kitchen. The forgotten formal dining room was only being used for holidays, such as Thanksgiving, Christmas, and Easter. The living room became a dusty museum for showcasing heirlooms, family photos, and rare books.
In 2020, with the coronavirus forcing millions of people to shelter at home and work from their residences, experts say the private home office is rising in stature like never before, especially among white-collar workers.
The use of Zoom for video conferencing skyrocketed to more than 200 million office workers a day from only ten million before the virus struck. Microsoft Teams users logged 2.7 billion meeting minutes in one day, a 200 percent increase from 900 million minutes in mid-March.
To help market his for-sale house, this writer dismantled his coveted "editor's den and library" when his Realtor wisely suggested staging the former basement office as a fourth bedroom for families with children.
The boom in home-office use created by the virus also could provide a future boost to Chicago's residential housing market, observed Don Benson, a broker with Jameson Sotheby International Real Estate in Lincoln Park.
| | |
| --- | --- |
| | "Imagine an executive with two young children working from home in his two-bedroom condo during the coronavirus quarantine," says Benson (left). "Guess who will be in the market next spring for a duplex townhome or single-family home with plenty of private home-office space and separate play space for the kids?" |
The virus also could have an impact on future high-rise condominium sales. What is life like now, residing in a cramped high-rise apartment with no private outdoor space? And when cabin fever hits, there's the worry of being forced to ride in a cramped elevator where "social distancing" of six feet would only allow one passenger at a time. The wait would be long.
Here are other design and amenity features sparked by the hunker down syndrome that Realtors say could be greatly valued by home purchasers after the virus threat is over…
• Home entertainment systems. With more and more people staying at home, there will be expanded demand for residences equipped with a media room or home theater, complete with big screen TV and surround sound.
• SMART home technology. All devices in the home should be connected to the Internet – computers, smartphones, clocks, thermostats, lights, speakers, doorbell, security video cameras, and appliances, to name a few. All of these are key components of home automation.
| | |
| --- | --- |
| • Private outdoor space. For unmasked fresh air, homes with big back yards, decks, porches, and balconies will rise in value. | |
• More food and water storage. A second stock-up refrigerator and a free-standing freezer would be greatly valued. So would a rainwater collection system.
• Enhanced power systems. Buyers will shop for homes with a separate whole-house generator, and solar energy systems will be popular.
Business office design also will change
With millions of American workers now laboring efficiently from home, corporations are gaining insight into the value of traditional office space and what it should look like after the virus is under control.
If working remotely from home is productive, experts say it could drastically reshape how offices are designed. The change could put a dent in demand for office space in the future. Typical downtown Chicago offices today feature about 175 square feet of space per employee, down from 250 square feet a decade ago. New open floor plans could push the space-per-person down to a cramped 125 square feet.
A 2017 Federal Reserve analysis found that the share of the American workforce that predominantly works from home had nearly tripled since 2000 to just over three percent.
After the virus is under control, this number may continue to grow just because corporations see profits in workers using their own home office instead of filling up high-rent commercial space downtown. Companies may cut expensive travel and real estate budgets in favor of investing in state-of-the-art technology and home office setups, experts say.
Home loan rates still a bargain
On April 23, Freddie Mac's Primary Mortgage Market Survey reported that benchmark 30-year fixed-rate mortgages nationwide averaged 3.33 percent, up from 3.31 percent a week earlier. A year ago, the 30-year fixed-rate average was 4.20 percent.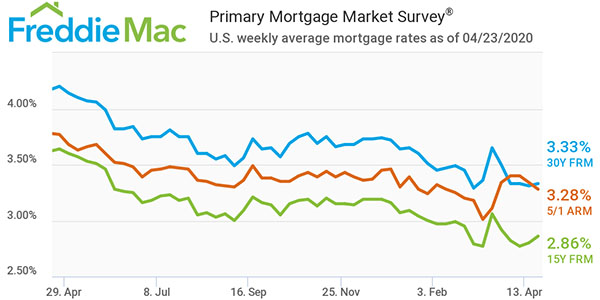 "Mortgage rates have stabilized over the last few weeks as the market searches for direction in the fog of economic data," said Sam Khater, Freddie Mac's Chief Economist.