The Mini is less imposing than its rivals, but the trade-off is that it relies on a single internal speaker driver. It still packs a surprising punch for its size, but listen closely and your favourite tunes don't sound quite as full and rich compared to Google's Nest Audio.
Despite its short stature, the HomePod Mini is fine for chatting to Siri as well as listening to podcasts, online radio and subscription music services as you go about your day.
If you've got a few Apple smart speakers spread around the house, you can play the same music in unison – which is great for a party – or different songs in different rooms when everyone needs some quiet time.
As you move from room to room, you can ask Siri to move the music or "play everywhere" to hear it throughout the house. You can also tap your iPhone on the speaker to transfer music or a podcast between them, which is great when you're walking out the door or arriving home.
Siri on a smart speaker is getting smarter, handling a wider range of queries, but she still falls short of Google and Amazon's smart speakers when it comes to accessing third-party services like ride-sharing. On the flip side, Apple pledges to be more respectful of your privacy and not mine your data for targeted advertising.
You can ask Siri about things like the weather forecast, plus you can make "personal requests" when your iPhone is nearby. Thankfully Apple's smart speakers can now recognise the different voices in your home, so you can access your personal information from iPhone apps like Messages, Calendar, Reminders and Contacts. You can also make and answer hands-free calls on your iPhone, which is handy in the kitchen when your hands are full.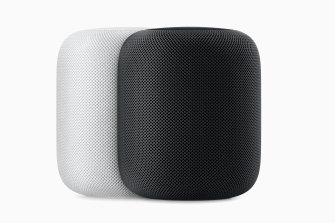 The Mini is also designed to be the command centre of your home, letting you control HomeKit-compatible smart home gear and even send intercom-style messages to all the iGadgets in your household to let everyone know dinner is ready.
When it comes to audio, you can ask Siri on the HomePod Mini to play content from Apple Music, iHeartRadio, TuneIn and your own music library including iTunes purchases. Support for Amazon Music is coming, but not Spotify. Instead, the frustrating work around is to launch the Spotify app on your iGadget and then fling music to the speaker via AirPlay 2 streaming.
If you're an Apple fan who was put off by the HomePod's hefty bulk or price tag, the new HomePod Mini is the smart speaker you've been waiting for. If you haven't sworn your allegiance to Siri, consider whether her rivals are a smarter choice for your home.